• Pallet size : 450 x 610mm
• adjusted your silk frame on exact place with our Easy Adjusting System, can move to up-down, back-forth,left-right and angles
• Shirtboard and screen can rotate independently
| | |
| --- | --- |
| Plate Type | Screen Printer |
| Usage | T-shirt,clothes |
| Automatic Grade | manual |
| Color & Page | Multicolor |
| color/station | 6 color 6station |
| Platen size | 450*610(mm) |
| pallet materials | wood |
| max frame size | 600*700mm |
| max image size | 450*550mm |
| Gross weight: | 350KG |
| Net weight: | 380KG |
| Dimensions(L*W*H) | 1 strong plywood box(122*118*134cm) |
| Volume | 1.929 CBM |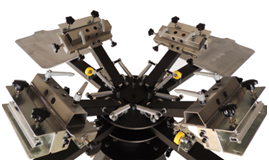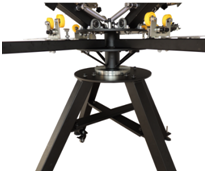 Export Standard Carton and Plywood Case Package
1. Widely suitable for screen printing t-shirts, garments, towel, leather, umbrella ,clothes and backpack, etc.
2. The printing base and screen can be rotated, and screen plate can be turned backward and forward, left and right, which makes the operation much easier and a more accurate printing position.
3. It suitable for printing with heating set ink, rubber cement and other printing inks.
If you want to print in multiple colors, then you will require one of our 'Carousel' systems. They are called Carousel because the screens and the clothes pad can be rotated respectively hence you can apply 6 colors on the clothes at one go.

Our carousel machines pack many features that only found on very expensive machines. For example, they have screen mesh micro adjustments function that allows you to get really fined tune printing image, also we choose to use the aluminum pad instead of wood which will be warped after a period of time, This is not an issue with aluminum platen).
Heavy duty -strong arm tension springs, high quality bearings and all metal mechanism makes our silk screen printing machines having outstanding quality enjoying good reputation from our esteemed western customers .